Do you have students who can't make it to class? Snow keeping students from heading down the Malahat? Need to broadcast your class from one classroom to another, or from your classroom to those students who can't be in class? We have a possible solution for you: Blackboard Collaborate Ultra.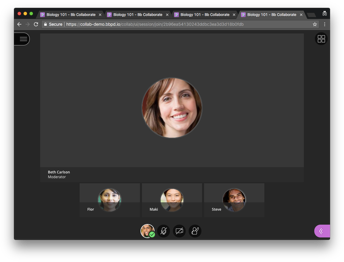 With a microphone and a camera connected to a classroom computer, both easily booked at the ITS Helpdesk, and a little help from your friends in eLearning, you can learn how to send your classroom to your students.
You can also use Blackboard Collaborate Ultra on your own personal computer and engage with students at multiple computers around the city, province, Canada, and the world.
Contact DE Support (desupport@camosun.ca) to arrange to talk to an instructional designer about your options, and to learn all about how this could support you and your students.