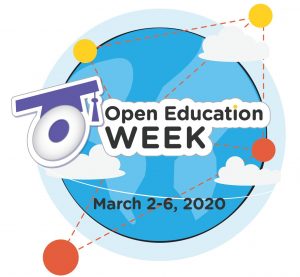 Some of you may know that last term, I completed the Creative Commons certificate.  It was an amazing course, and I highly recommend it to everyone.  A great example of how to open assignments up so that you are meeting outcomes through a variety of assessment choices (leaving it up to the learners to decide which assessment type is good for them), as well as a great example of using various online technologies to support learners in how they interacted with the course material.
For the certificate, I completed a number of assignments, all of which are available on one of my personal blog sites, but I thought for this final Open Education Week post, I would share my final assignment with you, an online workshop entitled Integrating Creative Commons Material into your Course(s).
I will be working on revising this workshop for delivery at Camosun this spring (as an asynchronous, self-paced workshop), and would invite anyone out there to provide feedback to me.  If you have any words of wisdom or suggestions for me, please either comment on this post, or email me at Schudele@camosun.ca.
Thanks for joining me this Open Education Week 2020!  I will continue to share posts on Open with you regularly, so please keep visiting!